At every Green Mountain site, there is a data center operation manager responsible for a team of technicians and the daily operations at the data center. In the course of a year, they handle both large and small projects and tasks. We talked with operation managers Espen, Morten and Jim-Aage and asked them to summarize the operation highlights of 2021.
What do you think was the most outstanding achievement of the operations team at your site?
Espen Losoa, the operations manager at DC3-Oslo, is in no doubt. "The greatest achievement was that we managed to complete the second expansion at our site. Within to both budget and schedule. The operations team was especially involved in the integration of the new expansion with the already established one. We integrated the technical systems while the data center was in full operation. So that demanded meticulous planning. And of course, the Covid-19 situation added an extra layer of complexity to the project."
At DC1-Stavanger, our mountain hall facility, Jim-Aage Johansen is in charge. He finds it difficult to only choose one achievement. "The team did a great job under challenging circumstances. Although we had to postpone the majority of scheduled maintenance from Spring to Fall, we managed to complete it. We also performed major upgrades of our cooling solution, expanded our back-up generators and implemented further security measures on the mountain itself. And not to forget, the 2.5 MW mountain hall expansion that was connected to the live data center. These were all demanding but very interesting projects."
At DC2-Telemark, where Morten Jacobsen is the data center operation manager, he is proud of the team effort. "Although we were not affected by larger buildouts, the team was handling a lot of smart hands and also expansion for our clients. In addition to all the scheduled maintenance of course. The team's flexibility and knowledge reduced the impact of Covid-19 for both ourselves and our clients."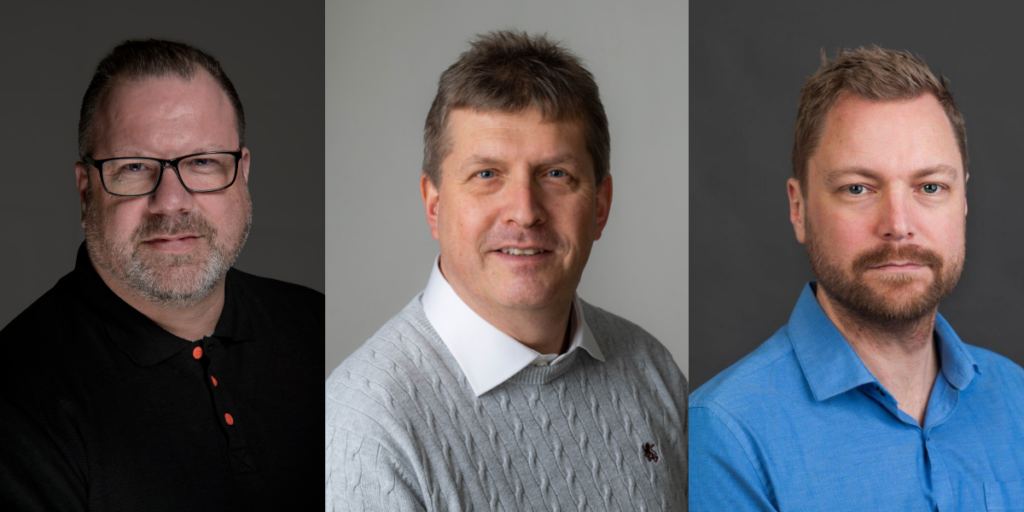 How has COVID-19 impacted data center operation and maintenance during 2021?
"It has been challenging, to say the least." they all agree. As mentioned earlier, they had to postpone alle scheduled maintenance by six months at DC1-Stavanger. Jim-Aage elaborates: "Our biggest concern was to protect the operations team from infection. So that they could run the data center as normal. When the infection rates peaked, we made the decision to limit the number of people allowed into the facilities and interacting with our technicians. Since a lot of the equipment maintenance require external personnel from vendors, these tasks had to pe postponed. As a result, we had a very busy period this fall when we could start maintenance work again. Nevertheless, every team member went that extra mile to catch up on the work. Finally, at the end of the year we had completed everything."
At DC3-Oslo they faced some of the same challenges. "We had to make several changes to our maintenance plans and how we execute them. The biggest issues have been getting service technicians from other countries into Norway. As well as delayed delivery time for spare parts." Espen explains.
How did you face these challenges?
One of the important measures in overcoming the Covid-19 challenges has been the frequent Corona task-force meetings. "These meetings were vital in how we dealt with the changing Covid-19 situation. Top management, Operations, Project and Service Management were represented. As a reult, they were able to make quick decisions. In addition, the top management is very technically competent. They understand the challenges and consequences." Morten explains. At times, during the most hectic construction phases, there could be 300 workers on a site, but still not a single case of infection. Espen knows why: "That is thanks to our strict Covid-19 regime. Using masks and keeping to your separate cohort. Respecting a safe distance and making sure that external people were tested and quarantined if them came from abroad."
"In 2021 we actually won an award for "Pandemic Impact Project of the year" at DCS awards. The project related to our installation of new HPC clusters for an international automotive company at DC2-Telemark. We became the client's extended team during the Covid-19 pandemic and they also trusted us with performing the quality assurance as well." Morten adds.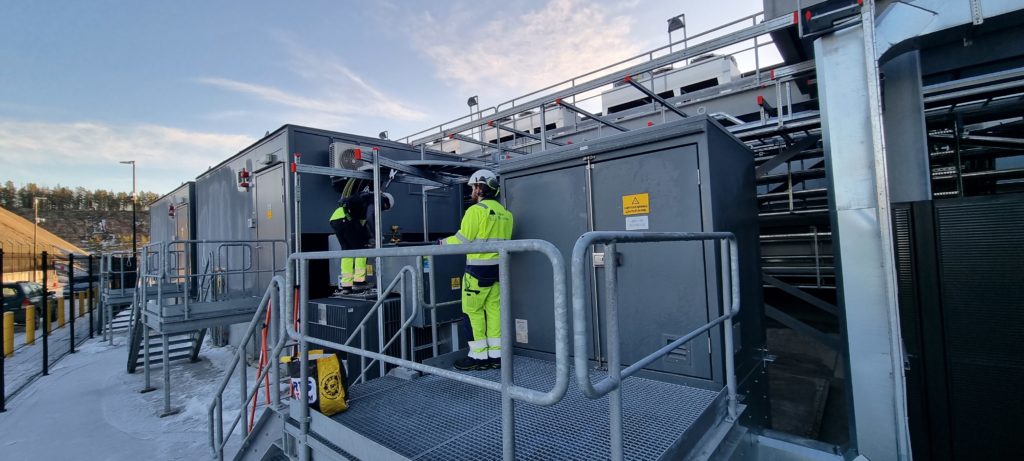 How much maintenance did you perform during the year?
"In total, we performed thousands of small and big maintenance jobs during 2021." Jim-Aage explains. "This could be everything from checking the fire extinguishers to improving the cooling solution or upgrade the quay outside DC1. All which are examples of actual tasks this year."
In addition to planned and regular maintenance, they handle incidents and change request from the clients. Everything is registered and logged in our customer portal. The 2021- statistics paints a picture of a hectic and busy year. "No injuries or damages, no infections, no client complaints. I guess we can call it a mission well completed." says Espen.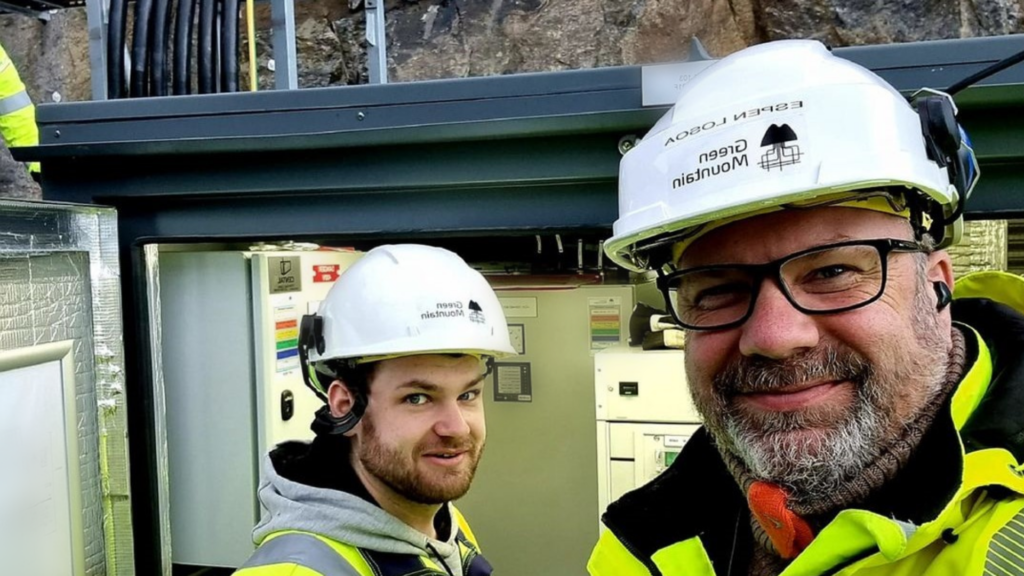 How involved were the operation teams in site expansions?
Both the DC1-Stavanger and DC3-Oslo sites were expanded in 2021. At DC1, they added and connected a 2.5 MW mountain hall expansion to a client's existing installation. At DC3, a new 4 MW module was ready in August, less than a year after we completed the first module.
The operation team's role in site expansions is varied. They participate in planning the design, they follow-up contractor during build, and they also operate the new data center during commissioning and testing. Together with the design- og project team, the operations team is especially involved in the final stages of the project. This is when the new and existing facilities are connected. With the existing data center being fully operational, it was critical not to interfere with the client's installation. There was no room for down-time.
Both Espen and Jim-Aage were relieved that it went smoothly, despite all the Covid-19 challenges. "It is all about planning carefully, but at the same time be flexible when unforeseen events occur." Espen says.
What are your thoughts on data center operation in 2022?
Morten has one clear wish: "In terms of the pandemic, I hope we can regain a more normal situation this year. We have learned a lot these two years and proven that we are capable of handling such a situation. Nevertheless, I look forward to the time when we all can meet in the office, shake hands with clients and only do minor adjustments to our maintenance plan."
Espen is also very excited about the new project at DC3-Oslo – the construction of a new colocation facility. "This is something that we actually worked on in 2021 as well. We were involved in the planning and just before Christmas we broke ground at the new site. It will be interesting to follow up on this project and welcome new clients in November 2022."
A shared objective for all three operation managers, is to strengthen their teams with new members. Both with technicians and apprentices. "We are growing fast and need to add more skilled people to the teams. So, we are currently recruiting or on-boarding new technicians at all three sites." Morten informs. "Apart from expanding the team, I believe it is very important to let our employees develop within the organization as well. We always try to recruit and promote internally for new positions so that people can try different roles. We also have a strong focus on our Green Academy, which is our program for competence development." adds Jim-Aage.
In summary, the three operation managers leave a demanding and busy year behind. However, there is no lack of motivation going into 2022. A year with new projects, new colleagues and hopefully a pandemic on decline.