Tier III Colocation Data Centre
DC2-Telemark
High-security colocation data centre in the cradle of hydro power.
Colocation Data Centre
DC2-Telemark is a colocation data centre located in a historic region of Norway. The site consist of 4 buildings, two of them are Tier lll facilities and two are customer specific TierI Facilities. The current total capacity is approximately 7,5 MW. The location is ideal for clients with specific requirements for growth as they can start small either with singular racks to support Proof-of-concept or operational concepts through to individual 2 MW modules. The location was chosen because it is the cradle of hydro-electric power in Norway and as a consequence, it has several large hydro-power stations in very close proximity ensuring robust and low-cost power to the site.
Server Rooms
We have server rooms available with a ready-built facility of 865 m2+ (9000 ft2+), where client specific server rooms can be delivered with rack-by rack, or with client-specific solutions with 50-500 m2 (500 – 5000 ft2) in size.
DC2-Telemark is a modular colocation data centre site, where Green Mountain have designed modular builds with a size of 2 MW. These modules can be split internally into smaller modules, or 2 MW modules can be combined with Tier III to 10 MW, or to Tier 1 standard up to 35 MW.
With two data centres located in different geographical and climate zones, we could offer the possibility of having data centres with geographic redundancy, but leveraging the advantage of integrated network infrastructure.
All solutions can be designed and delivered to support "any" power density, cooling, security solutions etc.
Power Supplies
DC2-Telemark is uniquely placed not only in Norway but in Western Europe in regards to the number of hydro-electric plants it has in close proximity to the site. There are 6 hydroelectric plants in the valley, 2 of them are located less than 1 km from the site. There is a 2 x 10MW supply available at the site with plans to expand to 2 X 25 MW in near future. However, there is a capability to expand to more than 100MW if needed.
5 % of the total energy production in Norway originates from production in the valley. The National Grid has 2x 500MW within 1km of the site. In addition, the natural water reservoir that makes the foundation for hydro production is so massive that even if it doesn't rain or snow for 18 months, there will still be water enough to secure production.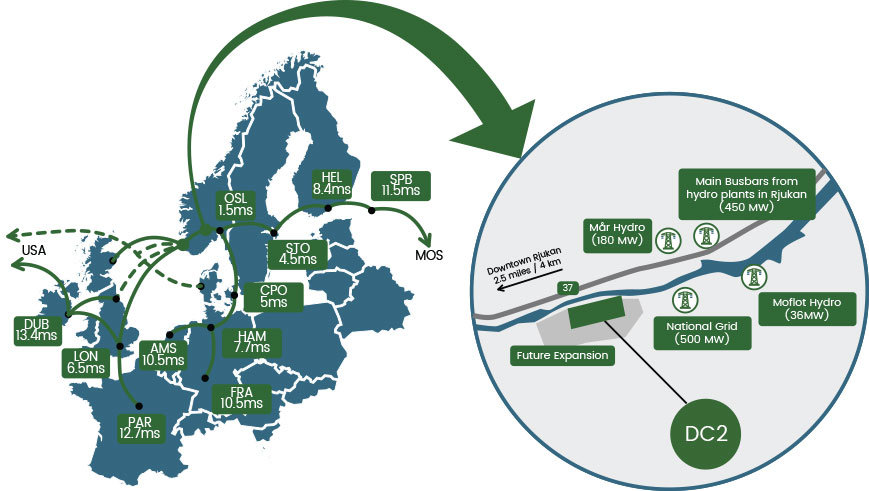 Cooling Solution
DC2-Telemark utilizes the cool natural Norwegian air to cool our colocation data centre at Rjukan. The town is situated at the bottom of a valley with 500-meter elevation on each side, providing in addition to the great foundation for power also natural cooling with a median temperature of 13 C. This means that we about 330 days of the year have free cooling in the data centre, and the valley is so steep that the sun doesn't shine on the data centre for 6 months out of the year.
To take advantage of these natural conditions we have implemented 2N cooling with Uniflair Chillers providing highly energy efficient cooling, and which enable flexible and scalable capacity options. The benefit is that there are very few movable parts and piping needed. The cooling solution is designed for precision cooling with hot aisle containment in the data rooms.
Connectivity
DC2-Telemark has redundant fibre paths into the site (last mile).
Multiple independent carriers inland paths
Multiple high-quality fiber-channels from neutral carriers available
Multiple paths into European markets via Oslo – multiple carriers
Across to Denmark – multiple carriers
Low latency connectivity to Continental Europe
Green Mountain data centres are carrier neutral facilities. Read more about Connectivity.
Meet-Me Rooms
We have established two fully redundant meet-me-rooms in different parts of the facility for carriers with diverse fibre paths to them. Dedicated meet-me-rooms may also be made available for customers with such requirements.
DC2-Telemark
40000
Total Space Available
97
Reduced Power Charges by %
100
100% Renewable Energy
Would you like to see for yourself?
Please get in touch so we can arrange for a site visit to our data center!
(It might be a virtual one due to Covid-19.)