100% uptime
Green Mountain delivers 100% data center uptime with up to Tier III resilience. We build our facilities to the highest global standards. Since the first day of operation, our data centers have delivered a service level of 100% uptime. We are committed to meeting global businesses' data center quality and compliance needs.
Operational excellence
Our team of data center experts are working proactively to ensure safe operations of the infrastructure in the facilities. They have in-depth experience in solving challenges for companies whose data center uptime of infrastructure is business critical. Since all our clients have unique support requirements, our team provides personalized services to our client's operational needs.
Green Peak solution provides direct, in-depth information about infrastructure and the environment in the data rooms. We document our quality of operation through continuous and real-time measurements. Furthermore, we provide our clients with in-depth reporting, and they can track their environment within our real-time analysis system.
Robust design
Several independent power supplies ensure that Green Mountain always has a reliable power supply. Moreover, we have duplicated the cooling and electrical infrastructure. This means the data centers are operational during scheduled maintenance and in the event of any unforeseeable faults within our infrastructure.
Duplicated cooling and electrical equipment ensure maintenance without servers being affected
Simple, robust cooling solution because with few components to fail
Multiple grid power supplies and automatic standby generators
Service Level Agreement of 99.982 – 99.999% uptime
ISO Data Center certifications
Most importantly, our facilities comply with the data center certifications of the International Organization for Standardization (ISO). ISO standards are the most widely accepted in quality, security, safety, and environmental management. Green Mountain's compliance with these standards ensures that the products and services we offer meet our customers' demand and often exceed them.
Green Mountain is certified in accordance with:
ISO 9001:2015 – Quality Management System
ISO 14001:2015 – Environmental Management System
ISO/IEC 27001:2013 – Information Security Management System
The company is also in the process of obtaining ISO 50001 certification (Energy management), ISO 45001 certification (Occupational health and safety management) and ISO 14064 (Carbon footprint verification).
The LON1-East campus is also certified according to the following two standards:
ISO 20000-1:2018
ISO 45001:2018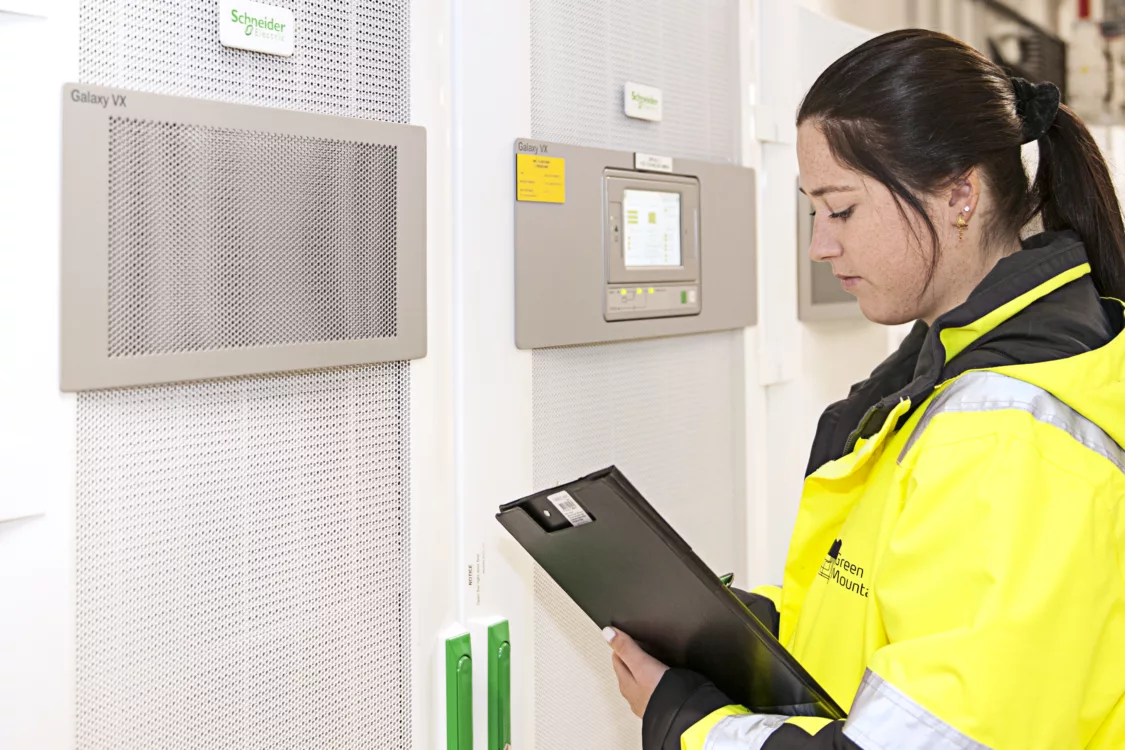 TierIII Certified by the Uptime Institute
In addition, several of our facilities are Uptime Institute Tier III certified, which sets the standard for international best practices in building and operating "rock-solid" data centers. The Uptime Institute and its consultants assessed Green Mountain in detail over six months to ensure compliance. Tier III design provides concurrently maintainable site infrastructure, and the sites exceed that. They are near Tier IV, except for the generators, which are N+1 not N+N because of the very reliable grid supplies. The Uptime Institute's data center tier standards are a standardized methodology used to determine availability in a facility.
We comply with two forms of Data Center Certifications:
Tier Certification of Design Documents (awarded SVG1-Rennesøy and RJU1-Rjukan)
Tier Certification of Constructed Facility (awarded SVG1-Rennesøy and RJU1-Rjukan)
Although Tier III certified, we can still build according to other levels of certification, like Tier I. The flexibility of our infrastructure supports these different requirements.
Open Community
Green Mountain has joined the Open Compute Project (OCP) Foundation. A collaborative community focused on redesigning hardware technology support the growing demands on computing infrastructures efficiently. As a Community Level Member, Green Mountain will help the community achieve its mission of designing, using, and enabling mainstream delivery of the most efficient designs for scalable computing.
Data centers are being asked to support denser configurations regarding power and cooling, which can rapidly outstrip the capabilities of their mechanical and electrical infrastructure. Green Mountain addresses this demand through our purpose-built, state-of-the-art facility, with data halls specifically engineered to deliver the high-density power and cooling required by these next-generation platforms. Green Mountain is partnering with the Open Compute Project to leverage new and exciting data center hardware development. With access to customized server racks, Green Mountain can now support even higher density racks which are not available in traditional data center configurations.