Tier III Mountain Hall Facility
DC1-Stavanger
DC1-Stavanger is a unique Tier III certified mountain hall data centre in a former high security NATO ammunition storage facility.
DC1-Stavanger is a former NATO ammunition storage facility which support our sustainable re-purposing values. We have converted it into a unique high-security mountain hall colocation data centre with 22 600 m2 (230000 ft2) space available. The main data centre comprises of a total of 6 mountain halls, each with two-storey concrete buildings built within the mountain. The infrastructure has been designed to be expanded up to 2 x 26MW.
The site is fully operational with clients including financial institutions, health, IT companies and government.
Server Rooms
We have server rooms from 50 m2 in size up to 1550 m2 for a single room, and multiple rooms are available.
Our mountain hall data centre is flexible by design and can be scaled up or down based on our clients' current and future requirements. Clients can start with one rack and expand as the need increases. Our clients can have their own data centre located within our facilities if they choose to do so. Although we are Tier III-certified, we have the opportunity to tailor-make your data centre requirement to any lower Tier standard. Power density, cooling, security level etc. can be delivered according to customer requirements.
With three data centres located in different geographical and climate zones, we could offer the possibility of having data centres with geographic redundancy, while leveraging the advantage of integrated network infrastructure.
Power Supplies
DC1-Stavanger has three independent grid supplies each fed from multiple hydro electric power plants to secure resilience and redundancy. The result is outstanding robustness of supply. (estimated 99.99997%). To the power supply, we have added additional levels of security in terms of N+1 prime rated generators. Phase 1 expandable to 2 x 26 MW if provided in Tier III setup, or up to 52 MW if utilized with independent power feed.
Cooling Solution
DC1-Stavanger has a cooling source available from an adjacent deep water fjord. To secure consistent temperature for cooling, water enters our cold water basin through use of gravity from pipes reaching 100-meter depth. Here, water temperature is stable at 8C (46F) all year round.
Read more about the cooling solution here.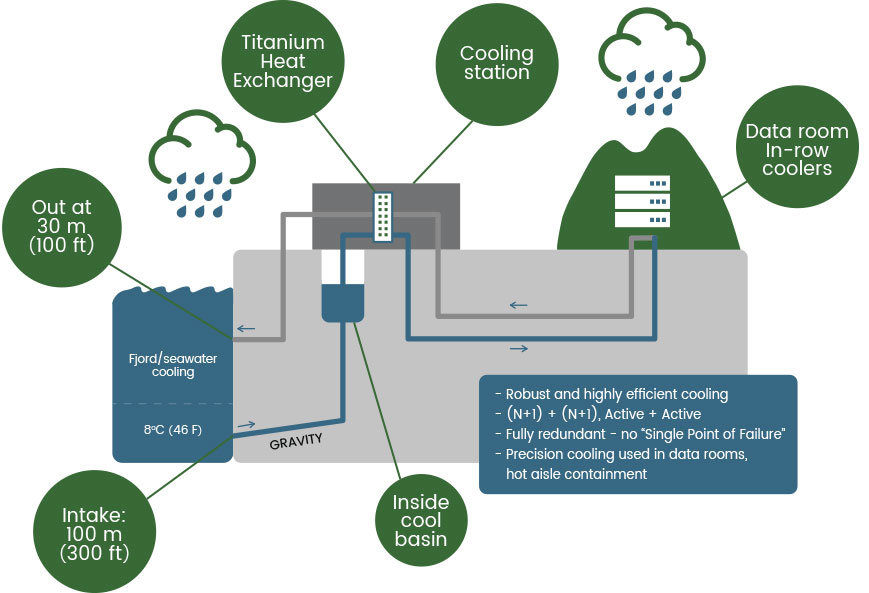 Connectivity
DC1-Stavanger has redundant fiber paths into the site (last mile) from multiple different carriers, and also manage own fiber both in and out of Norway. The connectivity out of our DC1-Stavanger data centre secures low-latency options both west to UK (6.5ms to London), east to DC2-Telemark, Oslo and Stockholm (5.5 ms) and south to major markets through Denmark to Germany, Netherlands and other core data centre hubs. DC1-Stavanger is uniquely positioned to be a choice to support high transaction levels either as an own data centre or as a potential disaster recover/over-flow site.
Read more about Connectivity
Meet-me Rooms
We have established two fully redundant meet-me-rooms in different parts of the facility for carriers with diverse fibre paths to them. Dedicated meet-me-rooms may also be made available for customers with such requirements.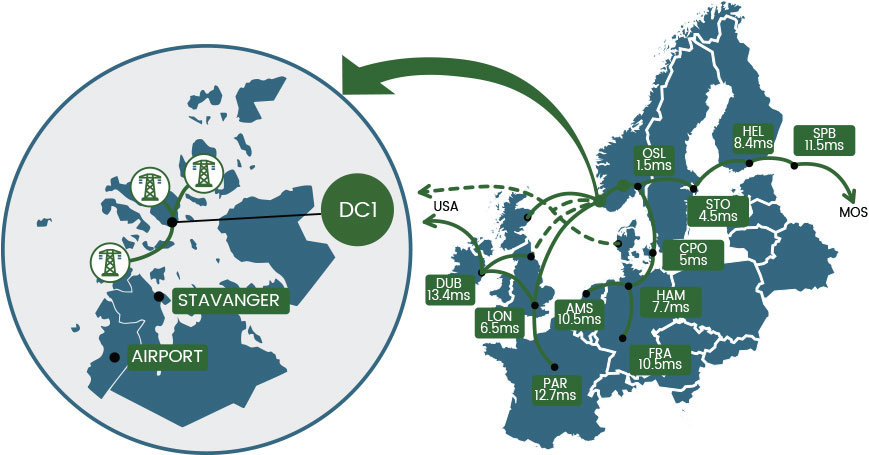 Fire suppression
DC1-Stavanger's location inside a mountain enables the facility to be made air-tight and hypoxic air ventilation is our standard used as a fire suppressant, but can also be delivered with Inergen if there are requirements for different solutions. The benefits of hypoxy is that fire can't occur because the combustion process does not receive enough oxygen which is reduced to about 15% (from 21%). This corresponds to an altitude of approx. 3.000 m. Oxygen level is constantly monitored with display screens in every client room ensuring the system is fully operational at all times. The mechanical equipment used to achieve this is duplicated N+1.
Other advantages of hypoxic ventilation:
Reduces/limits smoke creation
No secondary extinguishing damage (corrosion, environmental damages, toxic gasses etc.)
No hard disk failures due to a release of gas fire extinguishant.
Creates optimum operational environment
Avoids any corrosion damage from saline air
N+1 solution. No downtime to replace gas if a discharge occurs.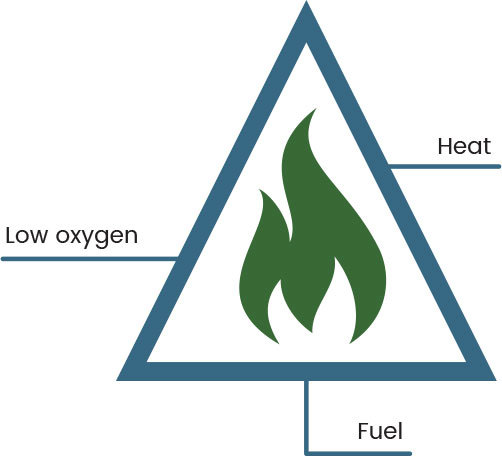 EMP Secure
Electro Magnetic Pulses (EMP) is a threat to data systems and data centers in general.
Solar flares or solar storms produce radiation across the electromagnetic spectrum at all wavelengths and may in extreme cases cause problems for computer equipment.
Also volcanic eruptions / volcanic activities may cause energy rich EMP activity that potentially could disrupt or destroy electronic equipment.
The best protection for such EMP activity is an underground data centre location. Recommendations are to have a minimum 5 m earth coverage to absorb the energy. The server rooms has a coverage of 100 m of granite so Green Mountain is well protected against EMP energy. The location was originally built by NATO to withstand a nuclear bomb. The main characteristics of the site are maintained in the rebuilding process into a data centre.
DC1-Stavanger
22000
Total Space Available
97
Reduced Power Charges by %
100
100% Renewable Energy
Would you like to visit?
Please get in touch so we can arrange for a site visit to our data center!
(It might be a virtual one due to Covid-19.)