World Class Security
Data storage requires good stability and uptime on the basic infrastructure. This is a service Green Mountain delivers and conserves so companies can focus on their core business. By placing their solution at Green Mountain, our clients obtain increased reliability, lower operational costs and world-class stability.
Security – Physical and operational security
At Green Mountain, we understand that data security demands more than antivirus programs and firewalls to guard against cyber-crime, theft, vandalism, natural disasters, human-generated disasters, accidental damage and other incidents. Our Security system and our standard operational practices are in accordance with ISO 9001/14001/27001, and each of our data centres makes use of a full array of security tools to monitor and record access within our facilities.
Our data centre is among the safest in the world, not only because it is in the Norwegian mountains, but numerous barriers have been set up to prevent unauthorized access. The entire area is continuously monitored by an intelligent video analysis system; we carry out identity checks by all visitors, the centre is secured with biometric identification systems, and everyone has to go through mantraps before they can access the centre.
The safest in the world
ISO 9001/14001/27001
Uptime Institute Tier III Certified
Award winning DCIM System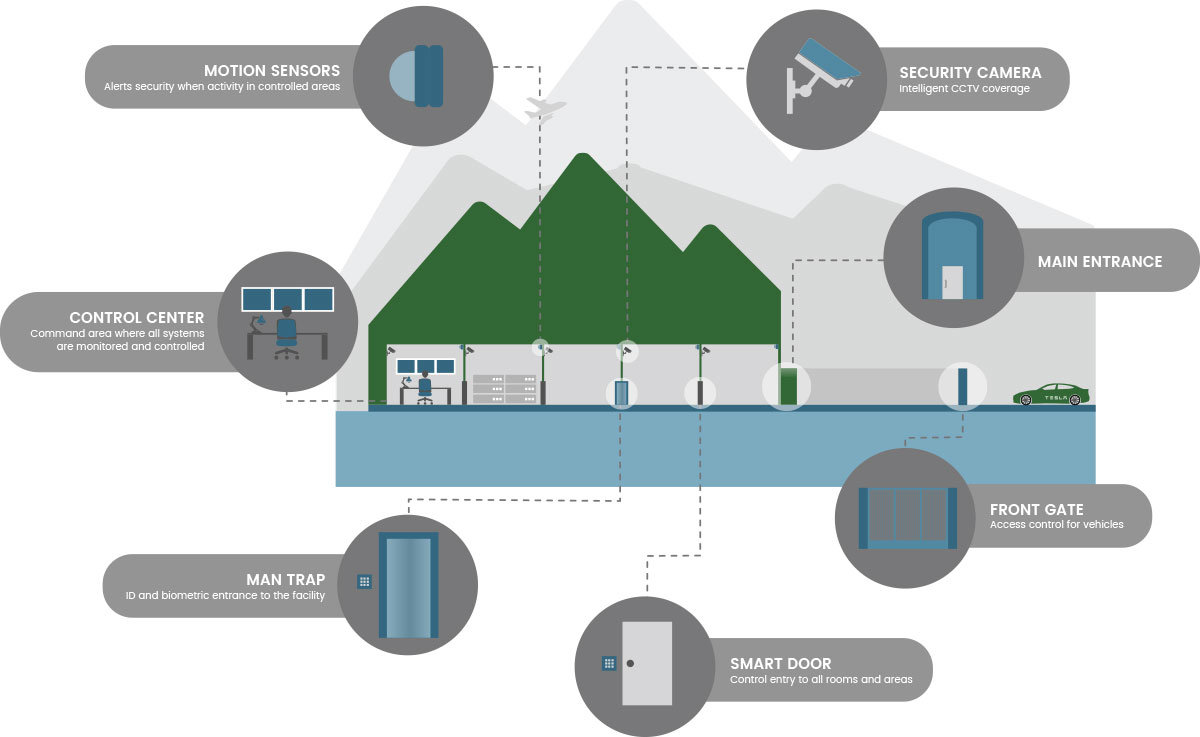 Location
We have two data centres in the Green Mountain group. DC1-Stavanger is located just outside Stavanger on the south-west coast of Norway. DC2-Telemark is on the edge of the town of Rjukan. It is 2,5 hrs by car from Oslo international Airport and there is a small airport within 30 minutes from the facility. Our DC2-Telemark is located in the heart of hydro generation in Norway with multiple hydro power stations within the near vicinity.
Uptime Institute Tier III Certification
Both of our data centres are Tier III certified by Uptime Institute (an internationally acknowledged organisation). Green Mountain has been assessed in detail by Uptime Institute and their consultants over a 6 month period to ensure compliance. Tier III design provides concurrently maintainable site infrastructure, and the sites exceed that. They are near Tier IV, except for the generators, which are N+1 not N+N because of the very reliable grid supplies. The Uptime Institute's data centre tier standards are a standardised methodology used to determine availability in a facility. We comply with two forms of Tier Certifications:
Tier Certification of Design Documents (awarded DC1-Stavanger and DC2-Rjukan)
Tier Certification of Constructed Facility (awarded DC1-Stavanger and DC2-Rjukan)
Monitoring and Reporting
Our state-of-the-art award-winning DCIM (Data Centre Infrastructure Management) System provides a global holistic, common, real-time monitoring and management platform for all interdependent systems across IT and facility infrastructures. Giving our customers control by way of monitoring and configuring their Data Centre requirements without geographical constraints. Our monitoring solution also provides very detailed monthly reports on all aspects of the environment.