Power and cooling solutions
Reliable power supply and effective cooling solutions are the most critical factors for data centre operation.
Norway is Europe's leading producer of Hydropower and we rank # 1 on the World Economic ranking in terms of energy access and security. This means our Data Centres are always powered by redundant renewable energy from a robust power grid. In addition, we make use of innovative data centre cooling solutions taking advantage of our beneficial natural conditions.
Renewable redundant power supply
DC1-Stavanger has three independent grid supplies each fed from multiple hydro electric power plants to secure resilience and redundancy. DC2-Telemark is situated in a valley where 5% of Norway's energy production originates, surrounded by several power plants.
Read more about the power supply for each of our data centres: DC1-Stavanger, DC2-Telemark and DC3-Oslo.
Energy-efficient data centre cooling solutions
Cooling a data centre usually accounts for an additional 40-80% of the electricity required to power the servers. At Green Mountain, we use the natural conditions of a wet and cold climate to our benefit. We use the fjords and rivers as a cooling source resulting in virtually 'free' cooling, adding only about 5% for the cooling load. Read more about our two different cooling solutions at our data centres below.
DC1-Stavanger – Data Centre Cooling Solution
DC1-Stavanger has a cooling source available from an adjacent deep water fjord. To secure consistent temperature for cooling, water enters our cold water basin through use of gravity from pipes reaching 100-meter depth. Here water is stable at 8C (46F) all year round, with no algae production limiting the need for cleaning of our titanium heat-exchanger located in the cooling station.
This cooling solution with use of cold water and gravity is the most energy efficient cooling solution in the world. We use less than 3kW of power to gain more than 1000 kW of cooling delivering our client`s significant cost reduction while supporting their requirements and targets for energy efficiency.
The cooling solution (including the cooling station, chilled water pipework and pumps) is fully duplicated providing a N+N solution. With limited moving parts (circulating pumps), the solution is extremely robust and reliable. Server rooms will have available N+N chilled water under the raised floor. In-row-cooling will be installed to client specification using hot isle technology. The solution provided is highly flexible and can support standard power densities from 2-6 kW/m2, as well as clients who have requirements for high-density solutions up to 40kW/m2.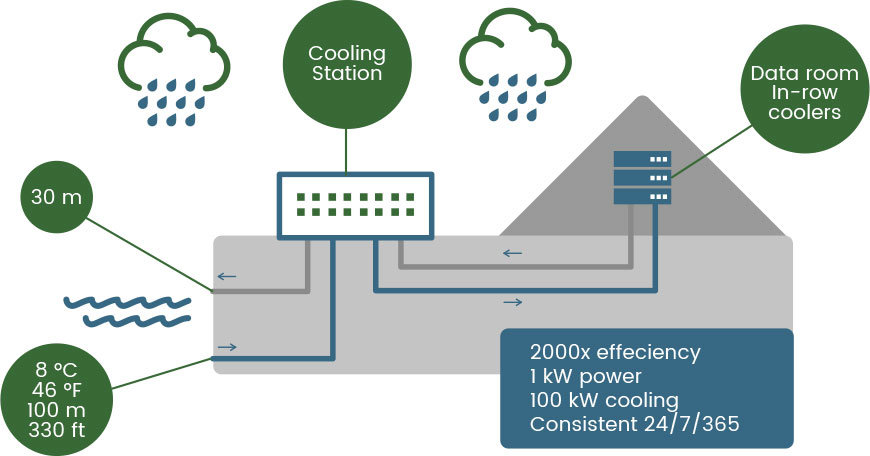 DC2-Telemark – Data Centre Cooling Solution
DC2-Telemark utilizes the cool natural Norwegian air to cool our colocation data centre at Rjukan. The town is situated at the bottom of a valley with 500-meter elevation on each side, providing in addition to the great foundation for power also natural cooling with a median temperature of 13 C. This means that we about 330 days of the year have free cooling in the data centre, and the valley is so steep that the sun doesn't shine on the data centre for 6 months out of the year.
To take advantage of these natural conditions we have implemented 2N cooling with Uniflair Chillers providing highly energy efficient cooling, and which enable flexible and scalable capacity options. The benefit is that there are very few movable parts and piping needed. The cooling solution is designed for precision cooling with hot aisle containment in the data rooms.