Our CEO, Tor Kristian Gyland, was interviewed by the CIO Techie Magazine in a series featuring "Most Trusted Microsoft Technology Companies". He explained our role as Microsoft Azure Express Route partner and how Green Mountain can provide sustainable co-location data centres. The interview is reproduced below or you can download or read it here.
Green Mountain: Sustainable Colocation Data Centres and Microsoft Express Route Partner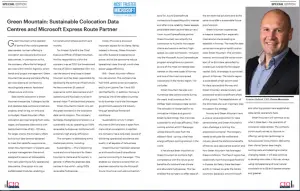 From CIO Techie magazine, January 2020
Green Mountain is the operator of some of the world's greenest data centers. Its main offering is colocation services and built-to-suit data centres. In connection to this, the company offers the full range of services within IMACD, logistics, smarthands and project management. Green Mountain has several partners offering services relating to connectivity, recycling/data erasure, hardware/
infrastructure and more. Data centre colocation is Green Mountain's expertise. It designs, builds and operates data centres and delivers projects, small or big, on-time and on-budget. Green Mountain offers colocation services ranging from racks, cages, and separate data rooms with deployment times of 90 – 120 days. For larger clients, the company offers built-to-suit data centres designed to meet their specific requirements.

Green Mountain's team of experts uses a project management framework designed to secure all deliverables from early planning to fully operational data centre. One option is to use prefabricated modules, enabling a full construction phase as short as 6 months. Tor Kristian Gyland is the Chief Executive Officer of Green Mountain. His first responsibility within the company was as COO but he assumed the role of CEO in September 2017. Tor was the second employee in Green Mountain and has been responsible for developing the technical infrastructure. He has more than 25 years of experience within data centers and IT operations and has been involved in several major IT and technical projects.
Green Mountain's mission is to set the green standard in the colocation data centre industry. The company facilitates the digitization of society in a sustainable way by operating on 100%
renewable hydropower combined with extremely high energy-efficiency. The company is addressing some market pain points, including:

Sustainability – This is becoming more and more important for Green Mountain's clients and for society in general. It offers the greenest data centres in the world – using 100% renewable hydropower.
Costs –The cost is always an important aspect for its clients. Being located in Norway, Green Mountain can offer Europe's lowest price on power, and at the same time reduce operational costs through world-class power usage efficiency.
Risk – Green Mountain offers a low-risk solution. The company has had 100% uptime since its inception, and it is an Uptime Tier III and ISO certified facility. In addition, Norway is ranked as one of the safest countries to do business in and the Norwegian government supports the industry through beneficial framework conditions.

Sustainability is truly in Green Mountain's DNA and sets it apart from many other competitors. In addition, the company has a long track record of delivering operational excellence and quality in all aspects of its business. Green Mountain has been selected as a Microsoft Azure ExpressRoute partner connecting in Stavanger. "This enables our clients to extend their onpremises networks into the Microsoft Azure cloud over a private connection," says Tor. Azure ExpressRoute connections bypass the public Internet and offer more reliability, faster speeds, predictable latencies and data privacy.
As an Azure ExpressRoute partner, Green Mountain can simplify the connection to Azure for Norwegian clients and secure a resilient, highspeed, low-cost connection. "Inclusion into the Microsoft Azure ExpressRoute program strengthens our position as one of the most connected data centres on the west-coast of Norway and one of the most connected colocations in the Nordic region," Tor conludes.
Green Mountain has also won numerous data centre awards during the years, and 3 awards so far in 2019as "best colocation data centre". The company is recognized for its innovative mindset and groundbreaking technology that improves sustainability and cost-efficiency. Their cooling solution at DC1-Stavanger utilizes the cold water from the adjacent fjord – giving it the most energy-efficient cooling solution in the world.

It has always been important to Green Mountain to combine high competence with the nature given benefits of a cold and wet climate and abundant hydropower. This has enabled the company to offer state-ofthe-art technical solutions and at the same time offer a sustainable futureproof solution.
Green Mountain experiences a massive interest from especially international clients seeking to establish in Norway. The need for data centre services grows rapidly and so does Green Mountain. The company recently announced the construction start of its third data centre facility, located just outside the Norwegian capital, Oslo. Its strategy is continued growth in Norway. The Nordic region is considered a high-growth area for data centres and Norway and Green Mountain are particularly wellpositioned to take a significant share of this growth. The establishment of the DC3-Oslo site is an important step to support this strategy.

Norway and Green Mountain have a unique value proposition for data centre clients, and Green Mountain's main challenge is to bring this proposition to market. The company needs to educate the market and industry about the distinctive benefits of Norway as a data centre location and how Green Mountain has leveraged these conditions.
The Flap-D region has traditionally had the strongest foothold in Europe, but lately, there has been a shift in interest towards the Nordic countries. Especially since Microsoft and other big players have established data centre operations here. Green Mountain will continue to do what it does best – the operation of colocation data centres. The company continuously strives to improve its
offering, using new technology to reduce power consumption, delivering their clients' better data insight, cutting costs and adapting to clients' changing needs. It will also continue to develop new sites in Norway, always using competence and local natural conditions to build and operate smarter and greener.