Data Center Connectivity is no longer an obstacle for the booming growth of the DC industry in Norway. There are massive investments in fiber projects with 10 new Nordic subsea cable projects to be completed by 2022. This gives Norway both route diversity and low latency to all the major population areas in Europe. Here is the latest update on the on-going fiber projects.
by Svein Atle Hagaseth, CSO in Green Mountain
I vividly remember a day back in June 2016, when I was quite new in my role in Green Mountain. Sitting in a large office in Seattle, speaking to one of the leading cloud players, I received a very clear message about the Norwegian value proposition I was presenting. "Mr. Hagaseth, there is no doubt that Norway is great in all aspects, except one thing. Connectivity to Norway is unfortunately killing the business case. Both with regards to diversity and cost."
It felt like a major set-back, but in 2016 the connectivity situation in Norway was not optimal. Fast-forwarding to 2020, the picture however has completely changed. And as it unfortunately takes some time for old sayings to die, I wanted to give you a current status on connectivity to Norway.
Huge investments in new fiber projects
Over the coming three-year period more than $375 million is expected invested in new submarine cable systems in the Nordic region. This will bring more than 122 new dark fiber pairs into Norway, and more than 144 new dark fibers in total into the Nordics. (see Dag Aanensen, article in Subtel Forum January 2020) Nine new subsea fiber projects are in the progress and will be completed by Q1 2022. This will give Norway a magnitude of different routes going in and out of the country. In addition, our strategic location in close proximity to the major hubs in Europe will reduce latency.
#closerthanyouthink
Contrary to popular belief, Europe is a small continent with close distances between the connectivity hubs. A few months back I talked to digital sociologist and author @Julie Albright she actually came up with a new slogan for us: #closerthanyouthink. I felt it was spot-on! To illustrate my point, I have made a comparison of the typical inter-Europe distances from our DC1 data center to the equivalent from San Francisco to major locations in the US. This gives it a bit of perspective.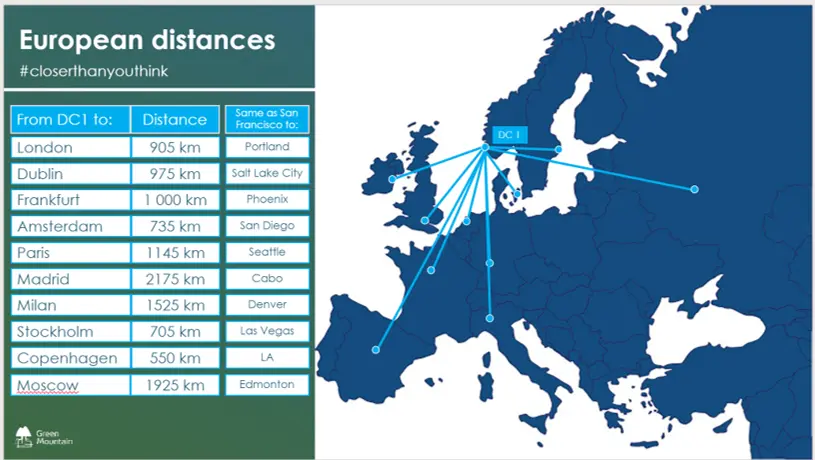 So what are the different projects I am talking about? I have gathered them in the list below. These are the most important projects in Norway and the Nordics right now.
Completed Projects:
Havfrue
Landing points: US – IRL – DK – NO
Distance: 7300 km
RFS: 2019
Havfrue (Norwegian for "Mermaid") is part of the AEC-2 submarine cable system and was completed in 2019. It is the first direct connection from the US to Norway. The 7300 km long cable significantly reduces latency to the US. The cable system also has landing stations in Ireland and Denmark. The Havfrue consortium behind the cable project consist of Aqua Comms, Bulk Infrastructure, Facebook, and Google. Read more
Tampnet
Landing points: NO (Egersund) – UK (Aberdeen)
Distance: 600 km
RFS: Q3 – 2019
In 2019 Tampnet installed a new cable system from the West Coast of Norway (Egersund) to Aberdeen (UK) through the oil platforms Yme and Ula in the North Sea. Read more.
BKK Digitek
Landing points: NO (Stavanger) – NO (Kårstø) – NO (Bergen)
Distance: 195
RFS: Q4 – 2019
BKK has installed a regional submarine cable between Bergen and Stavanger. Read more
Eastern Light
Landing points: FI (Helsinki) – SE (Stockholm)
Distance: 420 km
RFS: Q3 – 2019
Eastern Light has completed the first new fiber optic sea cable system between Sweden (Stockholm) and Finland (Utö, Hanko, Helsinki and Kotka) in more than a decade, shortening the fiber distance between Stockholm and Helsinki by 20%. Read more
---
Projects in development:
England Cable NO-UK.com
Landing points: NO (Stavanger) – UK (Newcastle)
Distance: 700 km
RFS: Q3 – 2021
A new fiber optic sea cable system between Norway and the UK with the Norwegian landing point at Green Mountain's DC1 Stavanger data center. The project will also be part of the Altibox Euroconnect1 network providing new alternative fiber routes to the major global internet exchanges. The consortium behind this project consists of Green Mountain, Lyse, Haugaland Kraft, BKK, the Hatteland Group and Ryfylke IKS. Read more
Skagen Fiber East and West
Landing points: West: NO (Larvik) – DK (Hirtshals) East: NO (Oslo) – DK (Fredrikshavn)
Distance: 170 km and 215 km
RFS: Q4 – 2020
Projected fiber optic cables between Norway and Denmark and part of the Altibox Euroconnect-1 ring. Read more
North Sea Connect
Landing points: UK (Newcastle) – DK (Esbjerg)
Distance: 650 km
RFS: Q2 – 2020
Aquacomms is building a new route connecting Newcastle with Esbjerg, providing diversity from the UK into northern Europe and avoiding going through London. Read more
Celtic Norse
Landing points: NO (Trondheim) – IRL (Kilala)
Distance: 2100 km
RFS: Q3 – 2021
The Celtic Norse Cable system will connect Central Norway to Ireland, with further connectivity to the United States Eastern Seaboard. The project is developed by NordavindDC Sites with financing from several regional power companies. Read more
N0r5ke Viking
Landing points: NO (Bergen) – NO (Trondheim)
Distance: 800 km
RFS: Q3 – 2020
The Norwegian infrastructure company N0r5ke plans to build a new regional route between Bergen and Trondheim. Read more
Havtor:
Landing points: NO (Lista) – DK (Hanstholm)
Distance: 165 km
RFS: Q3 – 2021
Havtor is a new submarine fiberoptical cable providing the shortest and most secure crossing of the North Sea from Norway to Denmark. Read more
---
Route diversity and low latency
These projects total a massive close to 13 000 km of new submarine fiber cables to the Nordics, and putting in place the foundation for both route diversity and low latency to all the major population areas in Europe.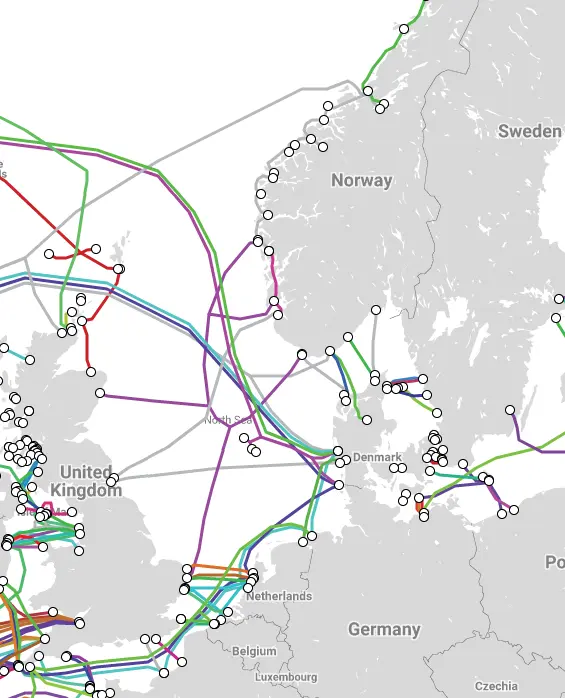 So hopefully when going back to Seattle, or any other location that is in need for data center capacity in Europe they see the huge change that has happened over the last 5 years. It has brought Norway on the connectivity superhighway. We can now truly add "connectivity" to the list of Norwegian benefits together with abundant renewable power, low power cost and government incentives. It is no wonder that Norway as a DC location is finally attracting the attention of the big cloud players. Maybe we should add a "N" to the FLAP-D expression? N for New, Nordics and especially Norway.