We Connect You
to the World
Data Centre Connectivity
Networking and data centre connectivity are central to our clients and for Green Mountain`s services, and we deliver both national and international.
We have worked closely with The Norwegian Government, partners and international telecom suppliers, contributing investment to ensure access to the international connectivity highways. This partnership and investments in the offshore industry ensure low latency for key hubs in Europe, such as London, Amsterdam and Frankfurt.
Our data centres are strategically located near the North Sea, Europe and the United States. We are supplier-neutral and provide access to a wide range of local and international network operators. That way, we can quickly and easily connect our clients to the rest of the world. The most relevant providers of connectivity to our customers offer their services within the Green Mountain data centres. We also provide unlimited capacity and high-speed fiber to all our clients.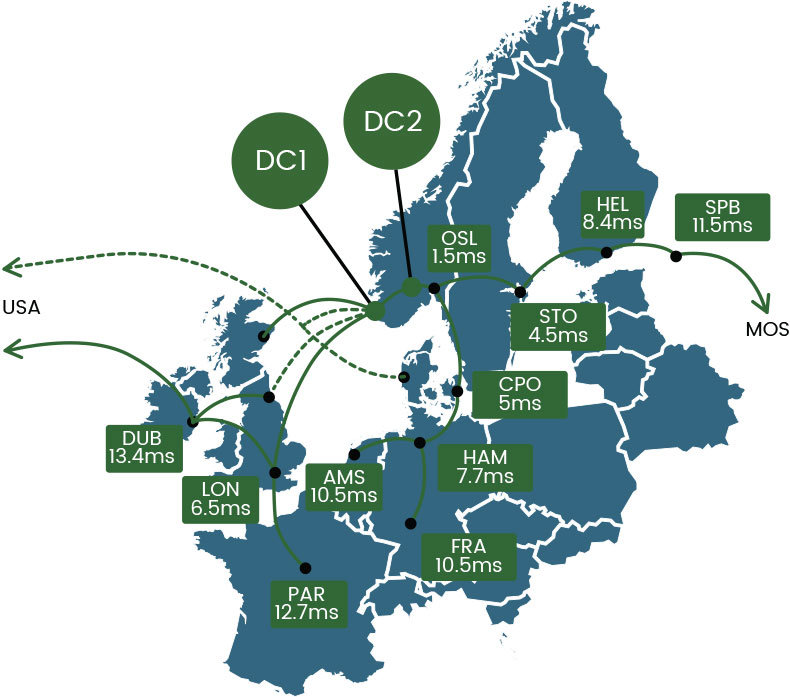 As a part of the initial build, fibre connectivity to nearby POP's in the region was prioritized. Green Mountain has together with several of the major telecommunication companies established a multi-redundant infrastructure with ample capacity. We have over the years invested heavily both in building our own fiber, as well as partnering with Tier 1 and local providers to secure that Green Mountain's locations are connectivity hubs, and we will continue to invest.
Green Mountain is one of the owners of the company NO-UK.com. This company is running a project to establish a new subsea fiber cable in the North Sea from our data centre at Rennesøy to Newcastle in the UK. The project has been running for the last 1 ½ year, and Ready for Service (RFS) date is estimated to 2020. Fiber cable design, marine survey and cable route have been selected by the professional turn-key provider of sea cable systems. Capacity and dark fiber services are planned to be delivered thru this new subsea cable. The fiber cable is planned with 8 fiber pairs and will be ready to host wholesale services at least 100/400 Gbit/s. With this establishment, Green Mountain data centre at Rennesøy will increase dark fiber capacity to the UK and reduce latency to the UK and Ireland (Dublin) on capacity services.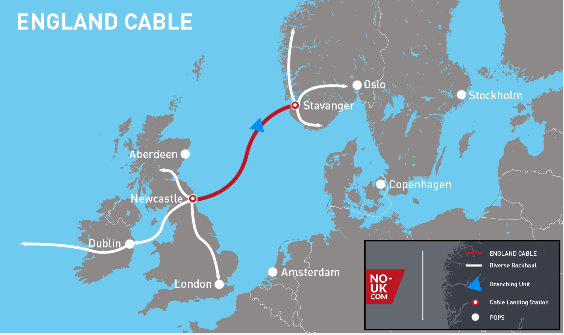 Options and Flexibility
As a carrier-neutral data centre, Green Mountain enables cloud connectivity and interconnection between multiple telecommunication carriers and colocation providers, offering customers the option to switch providers and avoid vendor lock-in.
Meet-Me Rooms
We have established two fully redundant meet-me-rooms in different parts of each facility for carriers with diverse fibre paths to them. Dedicated meet-me-rooms may also be made available for customers with such requirements.
Find Your Perfect Fit
All customers benefit from our relationship with network providers and have access to the most competitive services and pricing options.
Resilience Augmented
A carrier-neutral data centre encourages customers to abide by IT best practices, building redundancy and resilience by having two or more network providers. Additionally, our dual path dark fibres allow for redundancy and uptime guarantee.