Yesterday I was fortunate to speak at the CAPRE Infrastructure Industry Forecast in Ashburn/Washington DC. I shared my perspectives in a panel about changing client requirements, especially driven by the sustainability focus. I also listened to the other presentations and panels and here is a short summary of a couple I found especially interesting.
By Svein Atle Hagaseth, CSO in Green Mountain
The keynote panel:
Views form the top – Threats, opportunities, challenges and success factors for 2020.
Rich Miller from Datacenter Frontier moderated this knowledgeable keynote panel. The discussion touched on the topics of cloud vs hybrid vs on-premise, what to port and when, edge vs regional vs hyperscale and of course my favorite topic energy efficiency and sustainability. I will highlight a few of the most important issues discussed from the CAPRE Infrastructure Industry Forecast .
Going all Cloud?
Gabe Cole (Strongbow Consulting Group) mentioned early that they now see that many clients who initially had a cloud first strategy are lowering their ambitions of what to put in the cloud. This is mainly driven by complexity and cost and was echoed by the rest of panel on this topic. Companies need to figure out their balancing act between public, private and self-controlled models to meet their specific needs. Not all companies can and should pursue a cloud-only strategy.
I experience the same situation with our clients in Green Mountain. Clients initially planning to go up to 80 % in the cloud, now find themselves re-evaluating their strategy due to the complexity of pushing multiple different applications with different integrations, purposes and lifetimes into the cloud.
Brian Doricko, (CyrusOne) summed it up in these words: "Applications should stay where they are until they are refitted to work well in the cloud, and not being pushed as is." You must rightsize applications to handle different services and data loads. Not all data is going to be pushed to the edge. It is more sensible to have only the presentation layer close to the client and keep the processing in areas where there is a better sustainability and cost mix. Remember that 120 miles/app.200km equals 1ms latency and that a lot of applications and workloads can work well and do not have a need of being at the edge.
Garry Connolly (Host in Ireland) then mentioned that we all have a tendency to strive after the hypes, but that we need to "figure out how to demystify bullshit from what is real." Carrie Goetz (StrategITcom) supported this by saying that we need to adapt our strategy and not always jump on the next bandwagon but work to declutter information and find the right path. The road forward is that capacity is going to slide in and out of Cloud, based on technology, cost and changing needs. We as an industry need to adapt to this. Gabe also mentioned that we will see an emergence of strategically located hubs where local ISPs connect, maybe 10-20 across the US with ability to pull the different providers together.
How to improve utilization?
When the panel moved on to discussing sustainability, Conolly expresses a very valid point; We are setting aside 40-50 % of all available renewable energy resources being idle because we have a utilization at rack level of 40-50 %. How do we work to improve utilization? Jeffrey Moerdler (Mintz Levin) added that (based on his 30-year experience) we will never get to optimal utilization as no vendor or client is ever going to be caught having to little capacity available.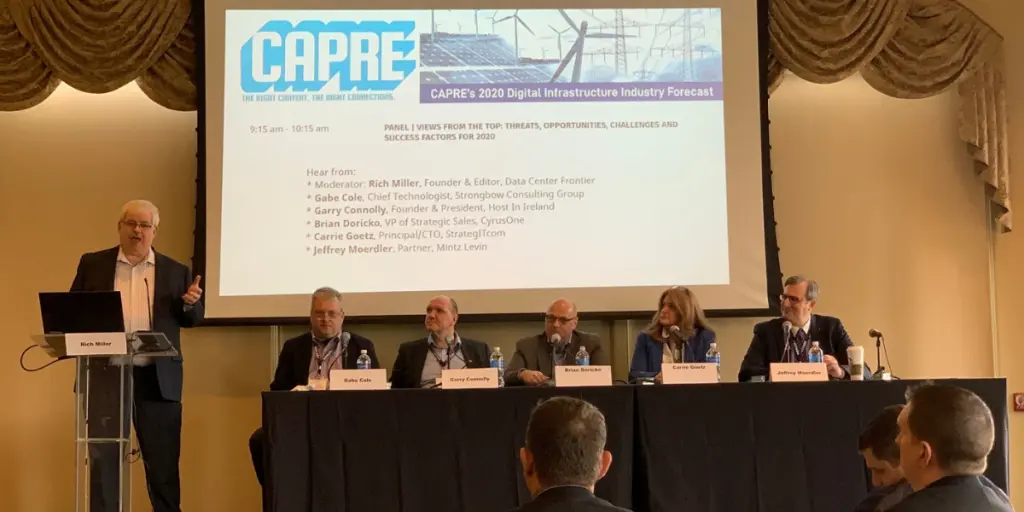 We need to give better advice
My take on this whole discussion is that I concur with a lot of these statements. I believe that we definitively will see clients maturing in their balancing act of the different models. As mentioned earlier, we have already seen clients who reverting their initial cloud strategy due to both complexity of applications and the cost picture. On the other side, we also see clients moving into our datacenters because they would like to stay close to the cloud and save cost on interconnection etc. I believe that we as an industry have the obligation to advise our clients better. We need to find the right solution for the individual client and not push them to make bad long-term decisions just to earn an extra buck.
The 5-year prediction
I always enjoy listening to predictions of the future. This time, Sami Badri at CreditSuisse, shared his forecasts. He believes there will be a drive to dense locations as clients would like to move into colos to make their days easier. "We continue to see enterprises and clouds outsourcing their data center infrastructures over the next five years, albeit at slower rates in 2020." he stated. Data centers with good connectivity and that are adjacent the Cloud will see the most growth. This will also mean that we will see the biggest growth in Tier 2 and 3 markets. There is still a big opportunity in the marketplace as a significant number of CIOs are evaluating what to do regarding Cloud, colo or on-premise.
Want to hear more about my panel at CAPRE Infrastructure Industry Forecast or my perspectives on what will drive the industry forward? Send me a message and I will share.
A bonus tip? Check out Rich Miller's article on 8 trends that will shape the DC industry in 2020 .