The Green Standard
With access to 100% renewable power and free cooling 365 days a year, Green Mountain uses Norwegian hydropower as an energy source for the complete cooling within our data centres. This way we are able to provide our clients with Europe's lowest power prices.
The Green Standard – 100% Renewable Power
One of the main challenges in the data centre industry is ensuring continual cooling throughout the day. At Green Mountain, we use nature and cold water from the deep Norwegian fjords located adjacent to our facilities to ensure the most efficient and effective cooling process. By using gravity, the cold water flows to the data centre cooling station without the need for power. We then only require minimal power to pump the cold water from our pump station into the data centre through our heat exchangers (3kw of power for 1000Kw of cooling). Our solution provides 100% environmentally friendly, free cooling. This unique cooling system provides energy efficiency for our clients, which results in high quality, cost-effective and energy efficient data centre solutions with zero CO2 emissions!
Green Mountain has been recognised as operating "The Greenest Data Centres in the World" for a variety of reasons and has won many associated awards in the industry. We have also received extensive media coverage including the BBC World News. In Norway, power is 98.5% derived from hydropower generation. This is a significantly higher percentage than any other Scandinavian or European countries and is second only to the USA in the Northern Hemisphere for hydro generation output. Unlike other European nations we, therefore, do not rely on Nuclear Power to reduce emissions.
Power in the data centre industry has the same carbon footprint as the airline industry. Our data centres are powered 100% by hydro so they have no carbon footprint as a consequence. By using Green Mountain your organisation's carbon footprint will reduce. Greenpeace has highlighted the issues around the carbon footprint of the industry in 3 reports, the last of which can be found here.
Carbon and Water Efficiency
Green Mountain have a carbon footprint close to zero. This is based on power generation from multiple hydroelectric power stations which have zero emissions. We do not use any evaporative systems for cooling and, in practical terms, have a WUE at near zero.
DC1-Stavanger
Built in a former NATO facility (reduced impact in building process)
No refrigeration or fire extinguishing gases
Efficient fjord cooling solution secures low power usage
External buildings designed to have minimum visual impact with main data centre underground
Data centre has no structural or solar gains for air conditioning to contend with
Proximity to power generation source resulting in minimal transmission losses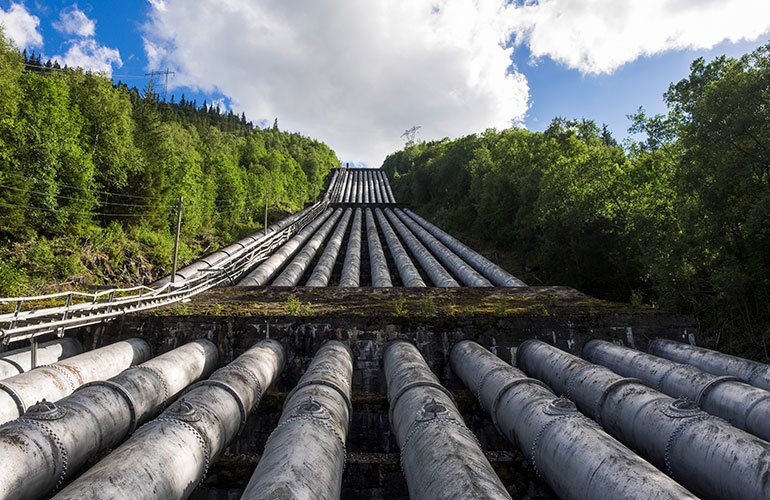 DC2-Telemark
Powered by 100% hydroelectricity
Efficient cooling from the local Norwegian cold climate providing free cooling 330 days of the year
Low solar/structural gains
Adjacency to power generation source resulting in insignificant transmission loss
Latest technologies to meet sustainability requirements
The Future of Internet Power was an initiative started by the largest data centre consumers in North America (Facebook, Adobe, Salesforce, Oracle, eBay etc.) and its mission is to increase the use of renewable energy to power data centres through collaboration with companies, power providers, developers, utilities and policymakers. Through this initiative, they have highlighted six principles to be supported, and Green Mountain was the first co-location provider in Europe to support these initiatives. For more about the Future of Internet Power and the six principles click here.
The World's Greenest Data Centres
100% Renewable Power
Zero CO2 Emmision
Europe's lowest prices on Power