The amount of data seems to be growing at exponential rates and will continue to do so in the years to come. All this data must be stored, processed and secured in data centres; which is good news for the data centre industry, but not always so beneficial for a company's budget or the environment. To reduce data centre cost and environmental impact we argue that companies should implement a differentiated approach to data storage based on the type of data they have.
I recently listened to a great presentation by Daniel Bizo in 451 Research about latency requirements in different industries. This made me think about how companies can implement a differentiated data centre approach based on their different types of data. I wanted to share some thoughts on this in this blog.
One size does not fit all
Data is collected everywhere; many companies measure everything always. As an example, in Green Mountain we have 50.000 sensors in our facilities, sending us data 24/7/365, giving us valuable insights.
We are not unique, and companies across the globe are at different stages of experimenting with their data. Figuring out how to improve decisions, business models and products based on improved analysis and models of all kinds of different data. However, when it comes to storing data, companies tend to use a "One size fits all" approach. Regardless of whether they choose a cloud strategy, a colocation solution or operate their own enterprise data centre, few companies implement a differentiated data centre strategy based on the type and use of their data. Instead the data is all treated the same way. It is time to ask yourself some questions:
All data and systems have different requirements and use. Why do we tend to treat them all the same regarding the data centre we put them in?
Do all your data need to reside in the same data centre?
Why don't we treat data differently depending on whether we need it now or 3 or 5 years from now.
What are your latency requirements?
One of the companies who have understood the importance of a differentiated data approach is our global international automotive client. They have traditionally stored data in their global corporate data centers, but with changing demands like sustainability, cost efficiency, power/space restraints, and time-to-market, they made a forward-leaning decision. They evaluated all their data needs and figured out what did not have to reside in global/regional HQ. Consequently, they decided to utilize co-location for their HPC workloads. HPC operations are not latency-sensitive and could be placed anywhere in the world. A sensible choice was to locate these data where they could get a carbon-neutral data centre at a significantly reduced cost. Not all data centers need to be downtown London, San Francisco, Tokyo or Singapore. These are places with limitations both on space and available (green) power, driving the cost up.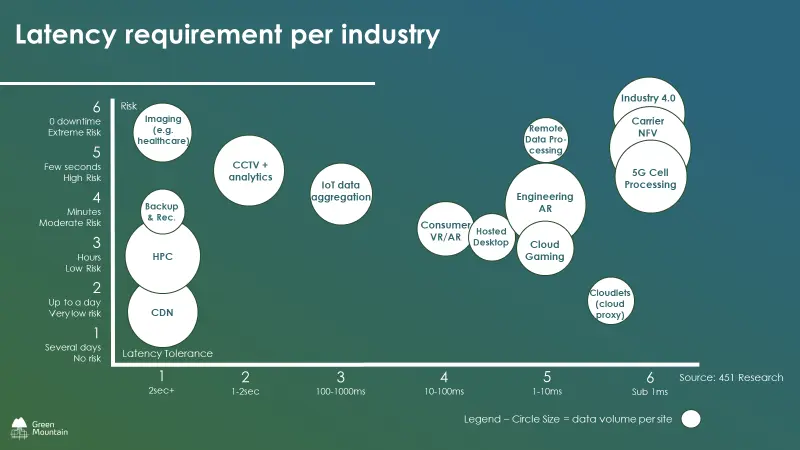 This is not ground-breaking science; it is common sense. Still, most clients tend to treat data the same way and the cost of this decision could be quite significant.
Reduce data centre cost
I recently performed a cost comparison exercise for a client who had a 7.5 MW data center in the UK. They were considering moving their data load to Norway. Their data was somewhat latency-sensitive, but they could live with latency of sub 20ms Round Trip for all their data. As figure 2 shows below the sub-20ms requirement to London was no issue. The map also illustrates the many planned fiber routes to Norway.
But back to the business case, it actually turned out better than anticipated. The client could get their entire data center services, connectivity cost, power cost and the transition project for less than what they paid for power alone in the UK. In addition, they went from a brown data center to a 100 % carbon-neutral DC. The savings for this specific client was 16.33 million EUR annually or 18 million US$ – each year of the contract. I sit in contract negotiations all the time and get pressured on the DC services cost per kW. The lessons learned should be to look at the whole business case. You should evaluate if you actually need to put your data center downtown London or Frankfurt, where the cost of power, for instance, is four times higher than in Norway.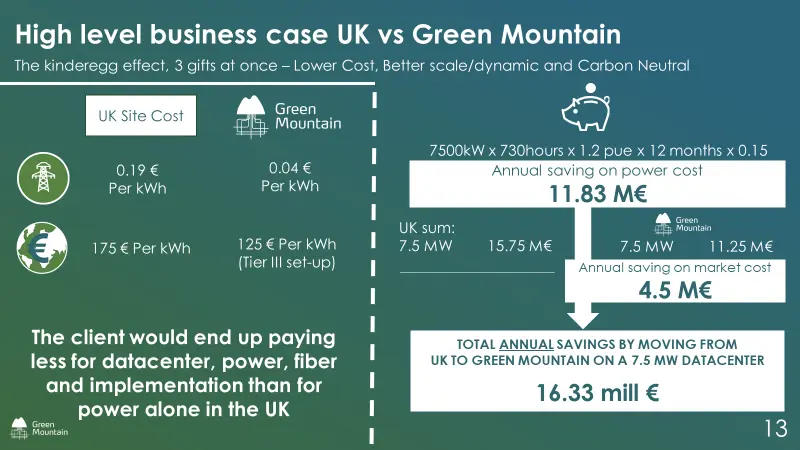 The final question I believe you should ask is this;
Is my organization ready to store data in an area with higher latency? If it results in more cost-efficiency and lower carbon emissions?
Like for many of our clients, I hope your answer is yes!