Are you interested in a data centre career? Using your skills and knowledge to build and support the digital infrastructure we all rely on? Working in a growth industry that puts sustainability in focus?
In Green Mountain we design, build and operate high security, robust wholesale colocation data centres. The company currently operates two data centres in Norway. The first is DC1-Stavanger at Rennesøy just outside Stavanger and the second is DC2-Telemark at Rjukan. In addition we are building our third data centre campus outside the Norwegian capital, DC3-Oslo. The data centres are Tier III certified by Uptime Institute for design and facility. Existing customers include banks, energy, IT service providers, government agencies and large enterprises.
In Green Mountain there are several types of data centre jobs. They all give you the opportunity to be part of a team of highly experienced and talented specialists. You will develop your skills and gain trust and responsibility. Our vision is to set the green standard in the data centre industry. At the core of everything we do are our company values.
Our annual employee survey shows that job satisfaction and involvement, management and collaboration receive top scores in the organization. Perhaps you are the next addition to our team? Below you will find our vacancies. If we currently do not have any available positions or within your field of expertise, you are welcome to send us an open application. You can also subscribe to positions in order to be notified when we post relevant positions.
Note: The vacancy list below is in Norwegian as all our positions are located in Norway.
Our core values
"Setting The Green Standard"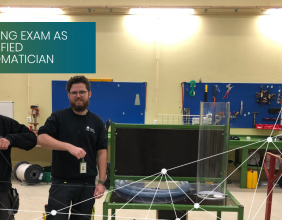 For Green Mountain Operation Technician, Erik Haugvaldstad, one certificate of...