The data center market is booming, and whether it is an enterprise client, cloud provider or a hyperscaler that needs capacity in a data center – one challenge typically remains. How fast can you build the data center when client wants to get Ready-for-Service (RFS) as soon as possible?
by Svein Atle Hagaseth, CSO in Green Mountain
Time-to-market gaining importance
Over the past years, I have experienced that "time-to-market" is gaining more importance as a decision criterion for clients. Although the sales process may be long, the question of time-to-market is raised early. When the customer is ready to sign, they want RFS as soon as possible. Planning ahead is always difficult especially with hyper-scale demand. The ability to quickly adapt and change to accommodate a quick turnaround is important.
Different deployment models offered by colocation providers
So, what can you expect as a realistic Time-to-Market when building a data center? In Green Mountain we usually present four different deployment models. Each with their own time scope and prerequisites.
Immediate need in less than 3 months – Rack by rack or cage?
To be able to provide co-location space in less than three months, the provider needs to have everything set up and ready to deploy racks immediately. This means a pre-configuration of the room and that standard pre-sets must be accepted by the client. There are a few disadvantages to an immediate need solution. You might not get your optimal specification and there can be limitations to set-up, density, power capacity, weight of racks etc. This might in some cases also lead to increased cost and paying for more than you need. A typical example are shared spaces like Rack-by-Rack rooms where clients order fully standardized set-ups for single type of racks. Green Mountain usually offer this solution for clients that have immediate needs, experiencing rapid growth or would like to do a Proof of Concept.
Short term need +/- 3 months? – Room Build is the option
Given a 3-month timeframe, the client has options in choosing a solution more tailor-made to fit their requirements. The colocation provider still needs to have space, power and cooling readily available. The difference is that we can build the room/cage specifically to fit client requirements. What capacity that will be available is dependent on the footprint needed. In Green Mountain we typically have clients with as little as 50m² and 100kW capacity up to 3000m² and several MW of capacity. However, bigger builds require additional time as complexity increases.
RFS in 6 months? – Prefabricated modular is key
With a 6-month construction time at disposal it is actually feasible to build a client their "own data center". It is a tight schedule and "prefabricated" is the essential keyword to meet the deadline. In Green Mountain we work with partners who build standard prefabricated modules that are shipped and assembled on site. This puts some restrictions on size of a rack row for instance but enables the client to get a build-to-suit set-up in a minimum of time. It is possible to build traditional buildings, but then in combination with the use of Modular Electrical units and Cooling to enable fast deployment. The size range can be 2 – 4 MW for a building and in any Tier level. In 2019 we built the largest outside prefabrication build in the world for the Volkswagen Group. (3 MW set-up.)
RFS +/- 12 months? – Scalable custom builds are possible
If a client requires custom build data centers, a construction time of +/-12 months is more realistic. The typically client may be a hyperscaler using a colocation partner to enable a "smaller" build in a new location. In contrast, hypescalers building themselves usually have a time scenario of +36 months. A colocation provider can get them to market much faster. On the other hand, this time-to-market model is also for clients with very complex needs or for clients who need larger scale build outs. For these long-term needs we also build modular, but not neccessarily prefabricated. This reduces time-to-market for future scale-outs shortening these build times to 6-9 months even at larger MW scales. In Green Mountain we can do more or less any type of build-out for our clients in this timeframe, independent of scale or complexity.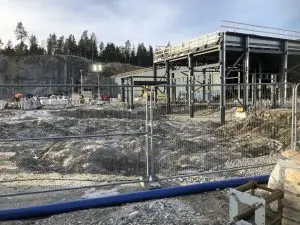 What are the prerequisites of rapid time-to-market projects?
There are several factors at play when pulling off projects in a short time frame. From Green Mountain's experience, these are the most important:
A competent project organization – The most critical factor is having a project organization that truly understands how to build and has a methodology that supports it. Both technical competence and excellent project management are essential. In Green Mountain we are fortunate to have additional project resources through our owners, Smedvig. This is one of Norway's largest and most traditional property developers.
A partner/vendor network to trust – A successful project is dependent on partners who deliver. Whether it is a turn-key partner taking full project control, a partner supporting the design and project phase or all the vendors delivering critical components – everything must be on track. One of the limiting factors in the industry is equipment lead time, something which can delay a project significantly. In Green Mountain we have established strong partner relationships, supporting our organization and securing predictability in our projects.
Land and power availability – It may seem obvious, but to secure the basic infrastructure components is crucial for rapid building projects, especially for clients with expansion plans. Two of the most fundamental components are power and land/space, which has become a limited resource in many European cities/hubs. In Green Mountain's case we are fortunate to have abundance of both. We are building our DC sites in the sparsely populated Norway with a surplus of hydro energy available. All our sites are campus planned with a future line of sight to a given "maximum". Our ability to plan and secure expansion opportunities and power capacity has been crucial to our success of achieving RFS dates.
Shared expectations are gold
No matter the deployment models and time-to-market requirements the most important factor remains. That is to engage in a productive dialogue with the clients and create a common understanding of the drivers from each side. Only then you can proactively work to figure out the timelines, risk profiles and how to achieve a win-win scenario for both parties.
If you are interested in how we can work out the best model for you, feel free to reach out to me at any time.