Future Proof
Data Centres?
Future Proof Data Centres
There are ways to future-proof the data centre without having to make costly investments, while still ensuring that IT infrastructure can adapt and change over time to meet evolving business needs – even in a rapidly changing, unpredictable landscape.
Flexibility and Scalability
Green Mountain's data centres are both built to be flexible and scalable to accommodate changing needs. Our DC2-Telemark facility is built with modularity in mind and will be expanded, as our clients need change. You can start with a few racks, and over time build your data centre to be a multi MW facility. We can support you through any phase of your data centre need, and work closely with service providers and cloud providers to ensure that we can support a client-specific hybrid approach, whether it means cloud first, a dedicated data centre or any combination.
Transparency and Analytics
When we started delivering our services to our clients back in 2012, we quickly found that clients wanted an insight into their deliveries, and after several years of development work we launched our Green Peak solution. This state-of-the-art award-winning DCIM (Data Centre Infrastructure Management) System provides a global holistic, common, real-time monitoring and management platform for all interdependent systems across IT and facility infrastructures. This system is fully integrated with more than 35'000 sensors in the data centre giving our customers unique insights into their specific delivery broken down to any level on any component on any service. It monitors all key deliverables like PUE, temperature, power consumption and even provides real-time insight into your cost of power and carbon footprint. This provides our clients with the opportunity to do real-time monitoring and configuring their data centre requirements without geographical constraints. Our monitoring solution also provides very detailed monthly reports on all aspect of the technical space. We believe all clients want insights, and with this tool we secure them the the insight needed to optimize end-user services.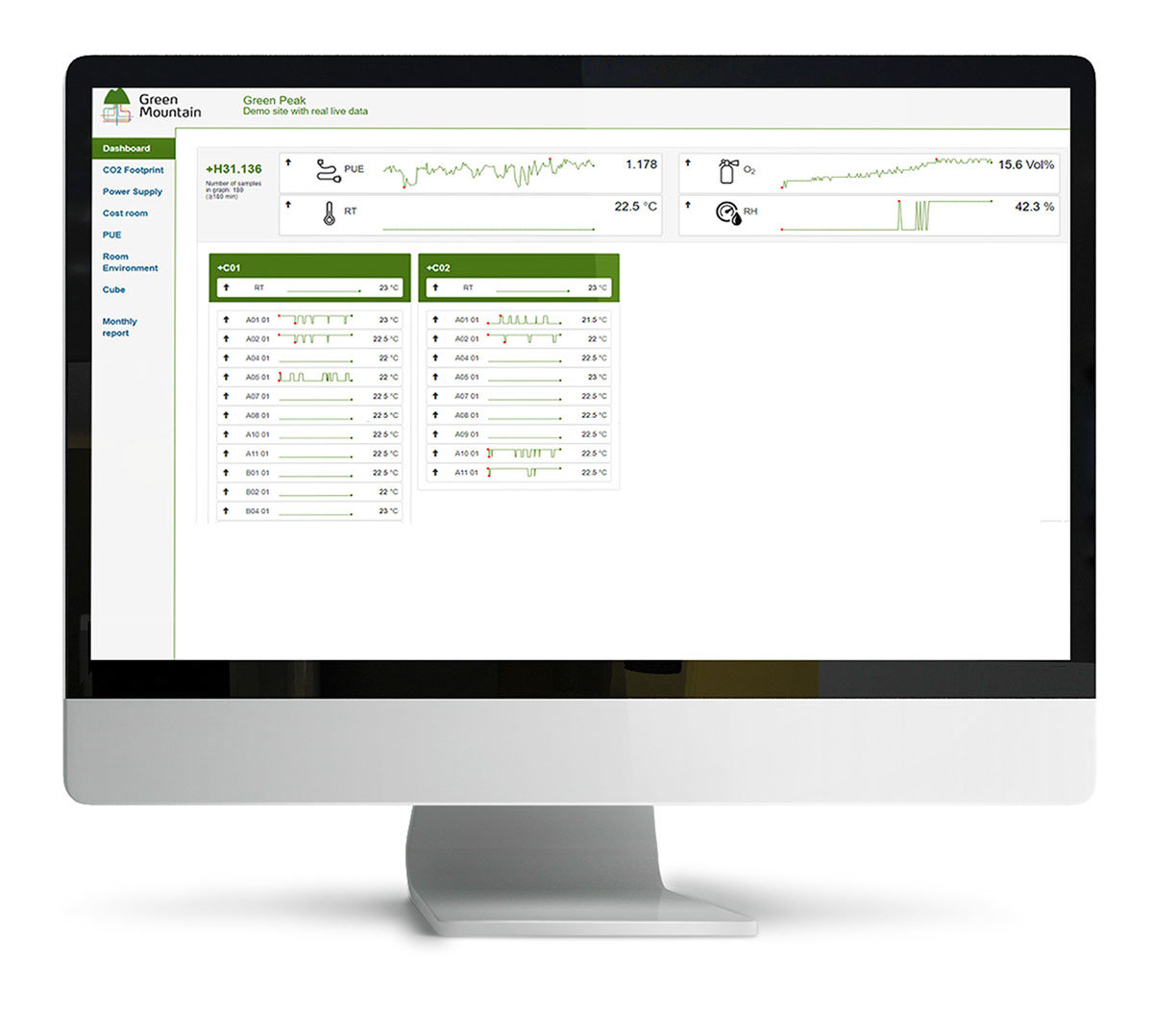 Green Mountain use cutting-edge technologies to meet your current and future technology, data and business needs. Drawing on our substantial Nordic operating experience, we are the leading exponent of cost-reducing, environment-protecting, green energy management systems.